Being a Richmond EC Sponsored Rider and why REC is the best venue to train at.
By Samantha Osborne
I am so grateful to the Turnbull family for inviting me to be a sponsored rider for 2022. The venue is outstanding! Not only are the facilities amazing but the staff are friendly and helpful. As well as hosting a vast range of training and competition opportunities for riders and horses of all levels, REC allows customers to hire their facilities too. In this blog, I am going to share some of my recent experiences at Richmond Equestrian Centre (REC).
The showjumps at Richmond are fun and varied. The course is different every time and is built by a BS qualified course builder to ensure the distances are suitable. I have used the outdoor showjumping hire in summer months and the indoor school in winter months. Every time I have been, I have enjoyed a private, peaceful and educational session. I always feel safe at this venue and I believe it brings out the best in both me and the horses I partner as I have pushed myself to progress over bigger and more technical tracks. I feel happy challenging my horses as the surface in the arenas is level and well maintained. None of the horses I have ridden at Richmond have ever tripped or lost their footing on the ground.
I regularly compete at BS shows at Richmond and so training at venue hires has really helped to settle the mare I ride who gets keen in the large arena.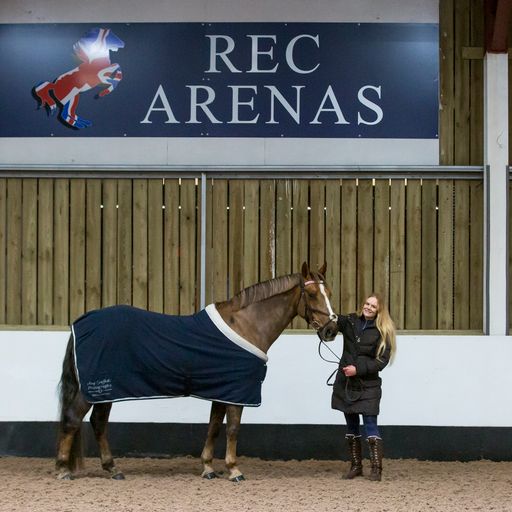 Arena eventing hire
The arena eventing course is by far the best course I have ever jumped! It is really creative and varied – from a hand painted packet of Polos to a spotted pig! The family team ensure that the course is frequently altered to ensure clients get to experience a varied course. There is something for everyone as the heights and technicality of each fence is varied. Just when you think they can't add anything different to the set of jumps, it is guaranteed that a new obstacle will appear – just like the new bank which is placed between the two outdoor arenas, next to the water complex.
I have schooled a variety of horses, including retrained racehorses to my Highland pony. I have had such fun on each occasion but the horses have progressed so much in each session too. The fences are inviting, substantially built and well maintained. Even the water looks sparkling and bright blue making it photo worthy on arena eventing days.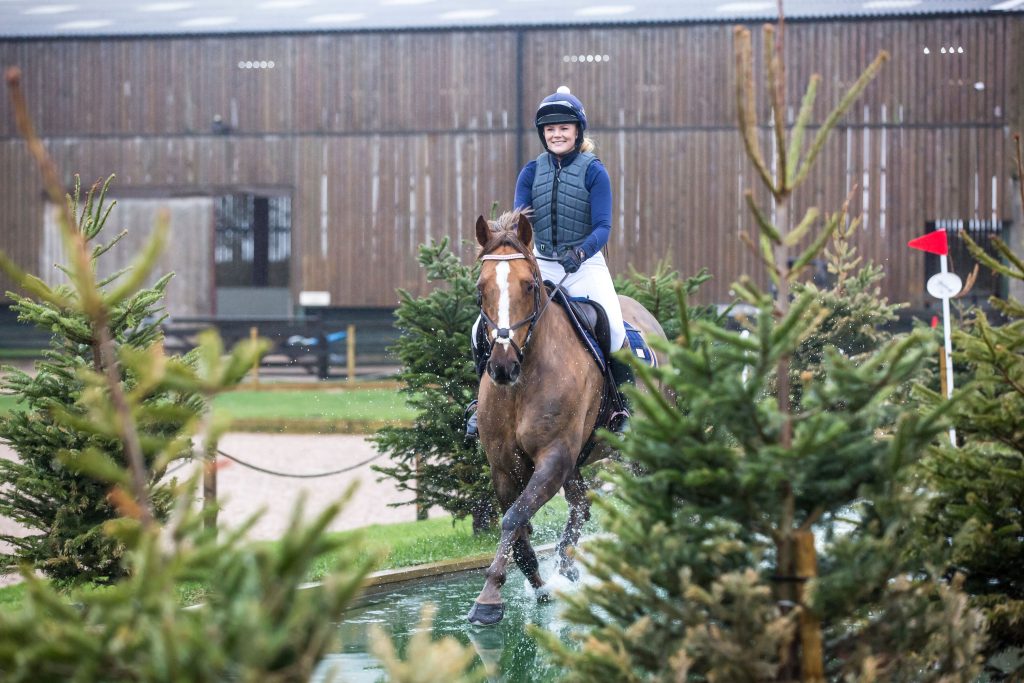 Dressage arena hire
It felt good to get between the white boards to do some lateral work and canter fitness exercises. I believe in keeping a horse's work varied and so it was great to do some flat work as usually when I put the mare that I jump on the lorry, we often go to do jumping.
I have used the dressage hire in the past when exercising horses with a friend on a professional yard. Each time I have been, it has been a pleasure to school.
An additional bonus of hiring venues at REC is the fact that you can leave your horsebox in a huge car park that is CCTV monitored at all times. Knowing that your lorry and equipment are secure is a relief. Furthermore, the car park is spacious and flat so you never have to feel anxious about reversing, finding a space or getting stuck! Additionally, there are toilets, a seating/viewing area and a coffee machine indoors, making it guest friendly for those family members you drag along with you as an additional set of helpful hands. 
Check out the Richmond Equestrian Centre website for pricing details and for information about how to hire the facilities. 
Samantha Osborne
Instagram – @samanthaosborneequestrian
Website – Samantha Osborne Equestrian