A First Timer's Inside Account by Samantha Osborne
With a variety of shows and classes available for all levels of horse and rider, it is no surprise that British Dressage recently recorded an all time high in registered members.
Less than a year ago, I joined British Dressage for the first time, to give a young showjumper some show day experience, without the pressure of having to jump a course of showjumps. He won all of his Intro tests and gained three qualifying Prelim scores, which I later learned qualified him for Area Festivals. His fourth dressage show was Alnwick Ford Summer Area Festivals 2022 and he finished 7th in the Prelim Bronze section. 
Following this positive experience and to make use of my 12 month membership, I decided to register my current horse, too. Hubert 2nd (Bertie) was also brand new to British Dressage but due to my Area Festivals results, I was unable to start at Intro and so Bertie started at Prelim level. He too collected three scores above 63% at his first three outings and secured an Area Festivals qualification. British Showjumping is our first discipline and so we prioritised showjumping lessons over dressage lessons; however, I was able to access a range of training materials online, which were shared by British Dressage and Pet Plan via email in the run up to Nationals, and I utilised what I had learned when training with Bobby Hayler on my previous ride (Kornetto). Due to qualifying quickly at Prelim level, I decided to tick an item off my equestrian bucket list, and so I contacted Gaynor Colbourn, who kindly put some music and a floor plan together for us to try some dressage to music. Bertie enjoys medium work, so I decided to compete at Novice Bronze level. He has collected all qualifying scores for the summer 2023 Area Festivals for Novice Freestyle Bronze, which I am really looking forward to doing later this year.
Bertie really struggled with a dust allergy throughout winter, which made training and competing tricky. As a result of a prolonged wet winter, turnout was limited and so I was unable to prepare for his Winter Area Festival qualifier, in the way that I had hoped to. I decided to take him to Aintree EC in February – not only because it is a stunning equestrian centre but because I wanted to travel away from my local area to celebrate and relish the feeling of having qualified for something new. The indoor school looked beautiful and the occasion was made even more special due to Horse and Country TV filming live – so our test was on TV! I decided to attend in time to take part in the arena walk in case he was spooky in the arena. This is a really good opportunity to settle horses so that they are relaxed and able to perform to the best of their ability when put under the pressure of doing their test. I warmed Bertie up using the Masta Protech Quarter Sheet, which has infrared technology and helps to keep him softer through his back. He finished 5th in a class of 66, just shy of 69%. We qualified on a wild card place due to our competent score at Aintree, which came as a huge surprise. British Dressage announced all wild card competitors online in March.
I was very grateful as an amateur rider and first timer at a BD National Championship event, to receive such fantastic support from a range of companies. I was proud to represent the equestrian businesses when competing at Hartpury on April 22nd. Cathedral Equestrian, who had a stall at the show, gifted me a stunning black, snaffle Hudson bridle, which really helped Bertie to look the part. Pine Vet Physio not only provided free treatment a few days before travelling to Hartpury but also a branded saddle pad for us to wear for our test. Most horse owners and grooms were battling with rug rubbed manes and half grown out clips, and I certainly had my work cut out trying to get Bertie turned out to a suitable standard for the day of the show! I bathed Bertie the day before setting off on the 4.5 hour trip south. I used the Honest Rider Ultra Shine soap block, which allowed me to massage as I washed away all of the grease that had built up through winter. I then hot clothed his coat with Honest Riders Coat Elixir and treated his mane and tail with Mane and Tail Elixir. His dapples started to shine through in just one wash, which was a huge relief.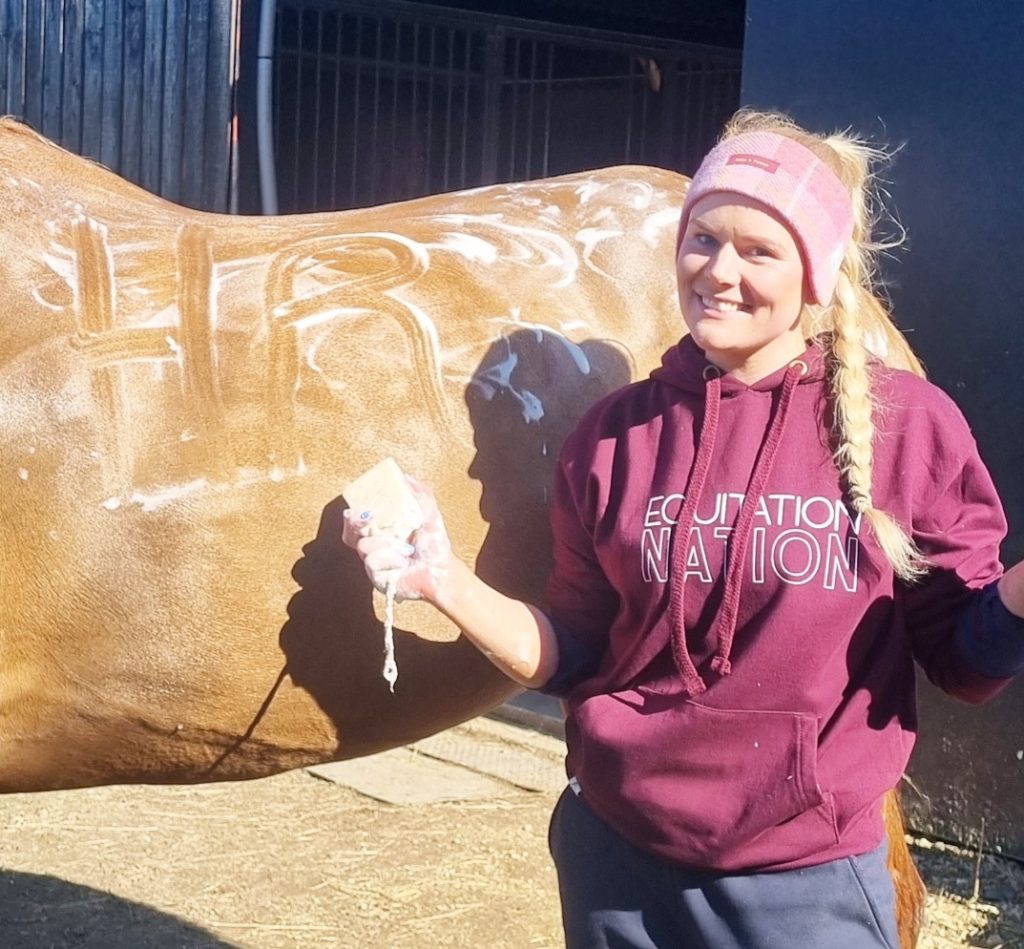 When we arrived at Hartpury, I was pleasantly surprised to find how easy it was to park and locate our stable and competition arena. From a horse welfare point of view, this was really impressive as I was able to unload and settle Bertie within minutes of arriving. The Blue Chip British Showjumping Finals had taken place a few days prior to the Pet Plan BD Festivals and so in places it was quite muddy but this didn't dampen our spirits and thanks to the leg wraps provided by Supreme Products, Bertie remained clean when stabled. I decided to stable the evening before competition day to allow him to rest after travelling but also so that we could access the 6.30am arena walk. We then used the rest of the day to watch tests and spot celebrity riders (including Charlotte Dujardin!).
Thanks to a change in the weather forecast on 22nd April, we were blessed with some sunshine, and so I decided to do a final top up wash to enhance Bertie's bright chestnut colour using the Supreme Products Chestnut Shampoo. I finished this off with the Supreme Coat Serum and Supreme Sparkle in his tail. I then whitened his socks using Supreme Whitening Powder, blackened his hooves using Supreme Black Hoof Oil, and of course he was plaited with brown thread and a lot of Supreme Products Plaiting Wax to sow his very unruly wintered mane into place. I tacked up (of course not forgetting my two bridle numbers, kindly gifted from Dakota Equestrian) and used a hot water bottle to make Bertie's back as comfortable as possible before I mounted. We allowed thirty minutes of working in. I did lots of lateral work and transitions in this time.
At 2.59pm, we proudly trotted into the arena. Bertie produced an accurate test and behaved impeccably to score 67.08% and to finish in the top half of the list of competitors. Ten others also finished on 67% and so the battle for the top 10 rosette placings was incredibly close. Just 1 percent more would have secured this for us! It is important to note that you are not allowed a test reader or schooling whip when riding your test. I was delighted to pick up my three test sheets, plaque and competition photos. It is lovely to be awarded a plaque for taking part as it is a big achievement to qualify to ride there in such good company.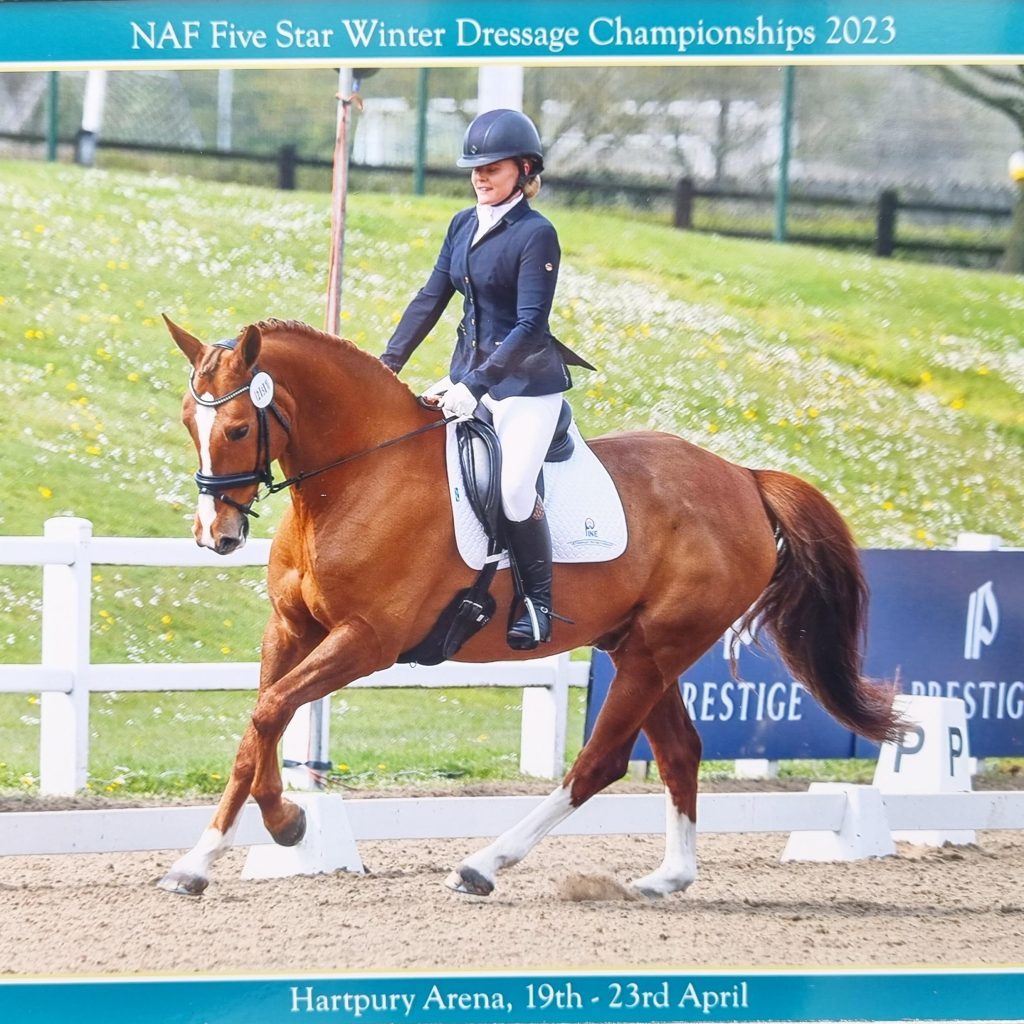 As a beginner to British Dressage, it was fascinating to observe how others prepared for the big day. It was common to see the use of headsets when warming up. Riders were given lots of instructions from trainers on the outskirts of the working arena (via the head set) which is not something I have seen when competing in showing or showjumping competitions. I feel very lucky to have been offered this opportunity, which for some people is a once in a lifetime chance.
Good luck to all partnerships who are working towards their dream of the BD Summer National Championships 2023. Bertie and I will do our best to try to qualify for this prestigious and coveted event.
Instagram – @samanthaosborneequestrian
Website – Samantha Osborne Equestrian