Richmond Equestrian Centre
Richmond Equestrian Centre, owned by Andrew and Abigail Turnbull, is based in an idyllic countryside location in North Yorkshire, just minutes from the A1.
The reigning Equestrian Business Awards Venue of the Year has an action packed and varied calendar mapped out for the season ahead with something for everyone to access. Boasting outstanding facilities and a passionate team of staff, Richmond Equestrian Centre is worth visiting this year, whether it be as a spectator or competitor.
Richmond Equestrian Centre is also a Highly Commended Livery Centre and Facility Centre, approved by The British Horse Society.
The cross country course is one of the most impressive features they have to offer, and many local riders look forward to when the jumps are open for public hire, be it for cross country schooling or their fabulous pleasure rides – which are open to all.
The Richmond Cup and the British Eventing Horse Trials dates are just some of the major highlights organised by the Turnbull family. These events attract some quality combinations and are well represented by the equestrian press. Months of hard work go into preparing the land and dressing the fences and when it all comes together, it really is a special and atmospheric experience.
Our Sponsors
With the support of loyal and generous sponsorship from a wide range of businesses, including Horslyx, Synovium Supplements, Aiskew Equine, and Baileys Horse Feeds. Richmond Equestrian Centre always offers exciting unrivalled cash prizes for their winners.
For information about how to sponsor future dates, sections or jumps, email Abigail Turnbull at: abigail@richmondequestriancentre.co.uk or horsetrials@richmondequestriancentre.co.uk
British Eventing volunteering
If you would like to volunteer to work at an event or do some paid work (from pole picking to stewarding) please express your interest via email. This year's British Eventing dates are: 28th-29th April and 14th-15th July.
Arena Eventing
As well as providing opportunities for British Eventing enthusiasts, Arena Eventing is held on a regular basis too. Offering classes from 70cm-1m over a creative track of giant carrots and Polos, a racing car, banks and an amazing outdoor water complex. The portable eventing fences are available for hire for £35 an hour for up to 4 people, which is great value for money, and can be booked online via the centre's website: https://richmondequestriancentre.co.uk/arena-hire/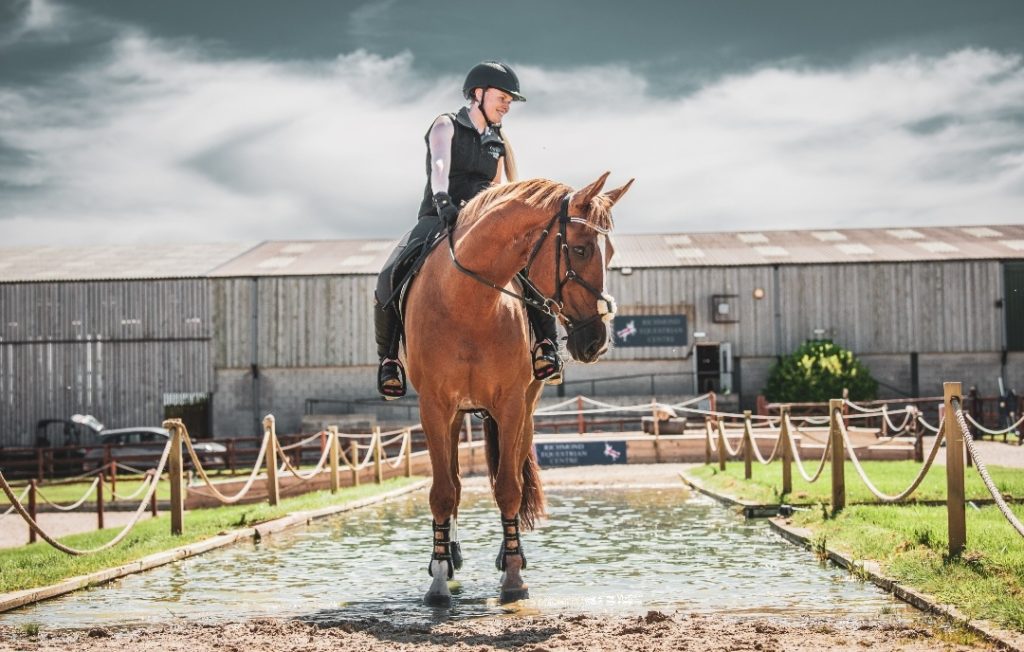 On Saturday 25th February, Horse and Country Channel staff are attending to televise the Arena Eventing (with British Eventing qualifiers). To avoid disappointment, the Turnbulls have encouraged riders to enter early as entries will close when at capacity, (currently limited availability).
The British Showjumping shows are always well attended. As a result of customer feedback and recommendations, the Turnbulls have kindly scheduled some training shows, on top of their Cat 1 and Cat 2 shows. These dates give riders the chance to train around courses up to 1m30 without elimination! Unaffiliated partnerships also have access to the professionally built courses of Jump4Joy show jumps at unaffiliated showjumping shows. The next unaffiliated showjumping competition also has qualifiers for Aintree International Equestrian Centre Championships and will take place on 19th February. The showjumping arenas are also available for hire throughout the week, again £35 an hour for up to 4 people – including lights! Furthermore, unaffiliated dressage shows have run throughout the winter months; the next dressage show is on 25th March.
Amy Griffiths Photography attends most show days so that riders and owners have the chance to buy professional action shots of their horses performing.
3 Valleys Riding Club
3 Valleys Riding Club proudly trains at Richmond Equestrian Centre on a weekly basis. Membership runs from 1st January – 31st December and is priced at £36 per year. The British Riding Club is dedicated to arranging regular clinics, lessons and competitive opportunities for its members at heavily discounted prices. Visit their Facebook page for details about how to become a member in 2023.
Lessons and Clinics
Plans for lessons and clinics with Olympian Nicola Wilson are also in the pipeline. Nicola attended four sell out Q&A evenings in the cafe at Richmond Equestrian Centre and was involved in the unveiling of the new defibrillator located outside of the indoor arena.
Over £1000 was raised for charities including The Great North Air Ambulance and Redwings Horse Sanctuary at the Q and A nights.
Many other famous riders have visited over recent years; for example, Geoff Billington has taught several sell out clinics, as well as bringing his own horses to summer competitions. The increasingly popular stunt riding superstar, Ben Atkison, has also put on spectacular performances for big crowds.
To keep up to speed with upcoming events, follow the Richmond Equestrian Centre social media pages:
Instagram – @RichmondEquestrianCentre
Facebook – Richmond Equestrian Centre
Twitter – @RichmondEquCen